Full Stack Development BootCamp
This is a bootcamp that would take you through the basics of full stack development and software engineering at Large, on this bootcamp you would be introduced to programming and software development, Learn industry standard tools and start your journey into becoming a software developer.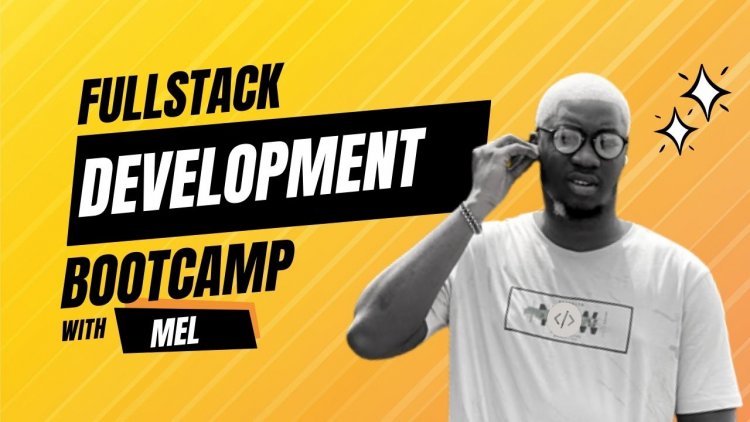 Watch Video


I'm Amaizu Melody, a Nigerian software developer who aspires to make a significant influence on the tech industry by bringing people together and preparing them for opportunities.
Because I am concerned about making a credible impact in the field of technology, I have decided to embark on this journey of introducing up to 1000 Africans to the world of technology via Fullstack development.
I am currently working and studying as a software engineer outside of Africa. It has been my greatest aspiration to push innovation in Africa, which is why I wanted to acquire the necessary knowledge and people.

I believe that if we can educate people or make available the technological capabilities required to move Africa out of the third world, the time required to bring development to the continent would be shortened.
Every economic sector is becoming increasingly dependent on software for growth; even an artificially intelligent system is irrelevant without operational software. Imagine the number of ideas that could result if at least 10 to 20 percent of young Africans understand and are able to develop software.

I was featured on Techpoint Africa after my team (Team Excess) won the Hackvote Hackathon by Startup South in 2018, came out as a runner in a global hackathon hosted by OneHackathon2020, and was honored as a runner-up in the Facebook Testathon 2019.
Over the years, I have coached and instructed software development in local Nigerian meetings and programs, and I have co-facilitated the Google Devfest Event hosted in South-South Nigeria. Also served as a mentor for beginners in the Andela Learners Community.
All of this is to demonstrate my growth and desire to have a significant influence, and I want to assist others to attain these heights and improve our communities.
The goal of the Full Stack Web Developer program is to equip learners with the unique skills they need to build database-backed APIs and web applications.
A graduate of this program will be able to:
Design and build a database for a software application.

Learn How to Use Version Control Systems(Git and Github)

Create and deploy a database-backed web API (Application Programming Interface).

Secure and manage user authentication and access control for an application backend.

Deploy a Springboot-based web application to the cloud using Docker and Kubernetes.

Classes on career development and Job readiness.
This program includes Up to 5 main courses and 4+ projects. Each project you build will be an opportunity to apply what you've learned in the lessons and demonstrate to potential employers that you have practical full-stack development skills.

PROJECTS:
Portfolio Website.
Login/Registration Using JWT.
Application for Simple Weather Forecasting.
A simple application that communicates with a third-party API.
A system for digital wallets.
Estimated Time:
The duration of the course would be six months, with students committing an average of five to ten hours per week.
In other words, I won't be trying to speed through it. It is important to me that as many people as possible benefit from and benefit from this course, thus I propose extending the time allotted for it so that students can take their time learning the material and go back for clarification or additional information if they need it.

Prerequisite:
You don't need any prior experience with computers or programming to get started with this course; instead, I and my colleagues will teach you everything you need to know, from square one all the way up to the intermediate (Mid) level.

Learning Strategy:
Although self-paced learning is fantastic, it still leaves opportunity for an inky bit of unseriousness and procrastination, so we would be applying a hybrid learning style which is live and pre-recorded course contents. The live courses will simulate a classroom setting in which students may interact with a teacher in real time, receiving immediate feedback on their questions and being shown how to complete exercises before being given access to the edited version.
If you miss a live session, don't worry. You can also view a clean recording of the session once it has been uploaded.
How Do I Register?
You can sign up without spending any money. To get started, please complete the form below.
If you can't really see the form to apply, kindly click HERE
What's Your Reaction?